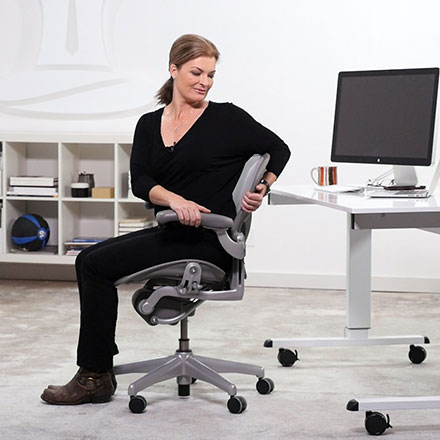 Desk Yogi Beginnings
Desk Yogi founder Jacqui Burge has been studying, practicing, and teaching yoga for over twenty years. She also had a desk job at Lynda.com, a fast-growing company with 500+ employees. As her corporate demands grew she found it hard to attend lunchtime yoga classes or make it to the gym. To get her equilibrium back, and to inspire others in similar situations, Jacqui started streaming live 10-minute wellness breaks for fellow employees. Word got out, and soon staff from all over the globe were logging on to her video lessons to grab a moment of meditation and movement in the middle of their day.
In less than a month, the twice-a-week sessions reached 120 attendees with a waiting list to join. Shocked at the popularity, Jacqui realized companies everywhere could offer her short wellness videos-on-demand during the long work day.
In 2015, from this basic knowledge, the idea for Desk Yogi was born. With former colleagues from Lynda.com and a team of experts in health, fitness and meditation, together they developed the content and functionality of desk-yogi.com, providing an integrated portal to deliver a simple wellness solution.
Today, Desk Yogi is used by corporations, small businesses, and individuals around the world, providing a comprehensive wellness platform built around state-of-the-art instructional videos on topics including yoga, fitness, mindfulness, meditation and stress reduction, healthy eating, workplace ergonomics, and productivity to all employees in any workspace, at their pace, no matter their fitness level.
PRESS INQUIRIES & SOCIAL MEDIA
Firefly Media
Penny Guyon
(323) 874-0776
[email protected]
www.desk-yogi.com